Nestled in the scenic Sonoran Desert, Phoenix is situated in a valley surrounded by mountain ranges. These mountain ranges are home to numerous state, county and city parks where visitors can enjoy outdoor activities including, hiking trails (pedestrian, cyclist and equestrian), camp grounds, and picnic areas. With it's warm weather, most valley trails are open year round. However, with the famous heat comes the necessity to take safety precautions. Click here for a hiking safety checklist. Check out some of the best rated hiking trails in the valley...
---
Camelback Mountain – Echo Canyon Trailhead 4925 E McDonald Dr Phoenix, AZ 85018 (McDonald Dr and Tatum Blvd) Printable Map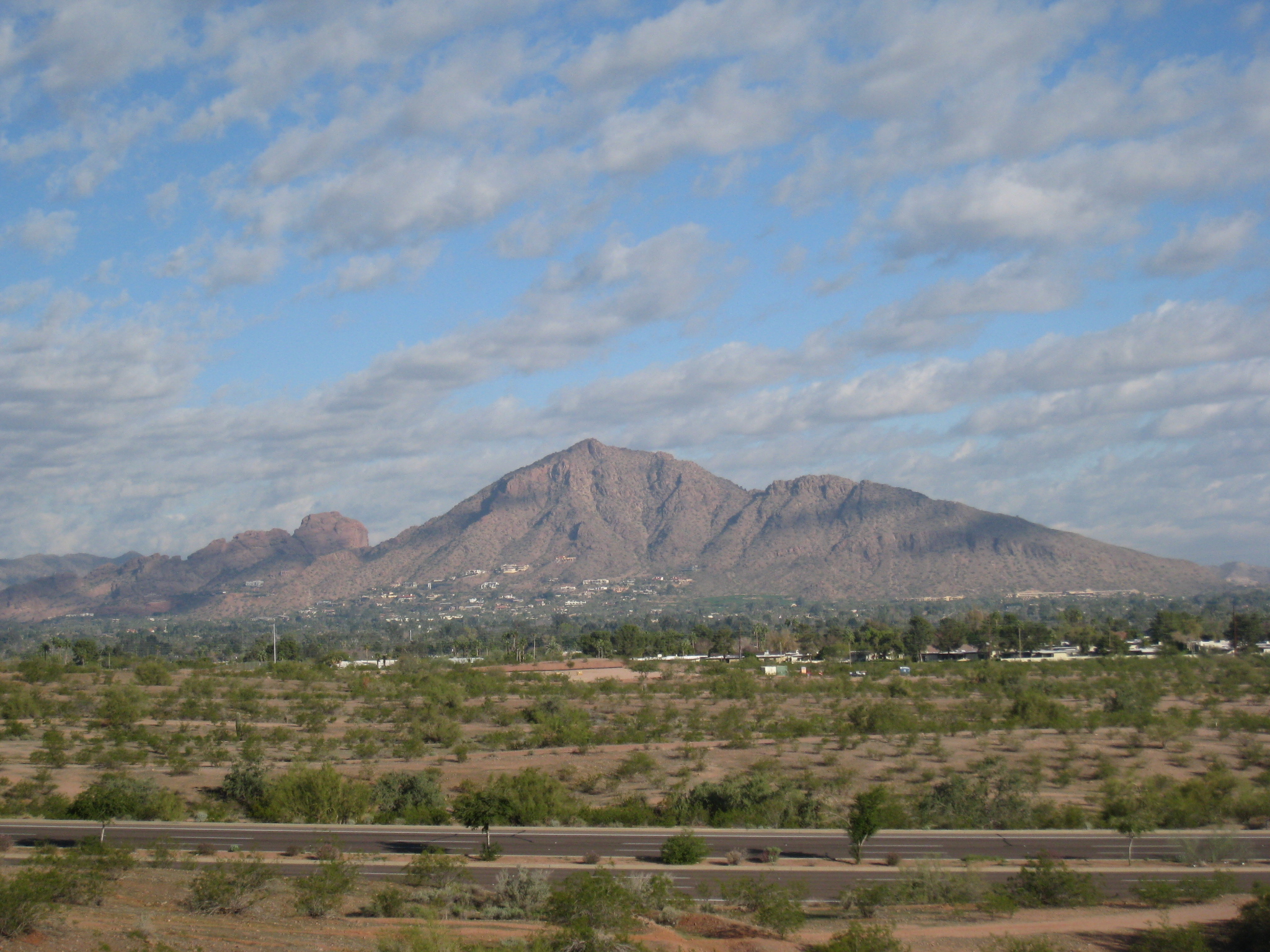 Camelback Mountain is considered one of the nation's top hiking destinations and attracts visitors from around the world. The range consists of two main trails, Echo Canyon Trail and Cholla Trail, both of which are rated extremely difficult and subject hikers to steep elevation gains, very rugged terrain and harsh elements associated with the Sonoran Desert. Only experienced hikers with adequate preparation during optimal weather should attempt to hike to the summit. For trail users that adhere to "Take a Hike. Do it Right" guidelines the payoff is a picturesque view from the summit (2,704 feet above sea level), which provides unmatched views of the Valley.
Camelback Mountain gets its name from the unique silhouette it casts on the Valley skyline. The "head" of the mountain, where Echo Canyon Trailhead is located, is made up of relatively soft layered sandstone. The "humps" are primarily composed of much harder and older granite. Contrasting rates of erosion created the dramatic camel-like slopes.
Dogs are prohibited from all trails year round.
Source: https://www.phoenix.gov/parks/trails/locations/camelback-mountain
---
Piestewa Peak and Dreamy Draw 7200 N Squaw Peak Dr, Phoenix, AZ 85016
Surrounding the base of 2,608-foot Piestewa Peak, Phoenix Mountains Park and Recreation Area, and Dreamy Draw Recreation Area are gateways into diverse desert landscapes that offer everything from fantastic views to secluded valleys.
You don't have to fight crowds on the Piestewa Peak Summit Trail to enjoy the area, as the trailhead boasts dozens of miles of trails to help you enjoy the glory of the Sonoran Desert in relative solitude. An assortment of picnic areas nestled in the hills offer a picturesque spot for a gathering.
Source: https://www.phoenix.gov/parks/trails/locations/piestewa-peak
---
Sonoran Preserve – Apache Wash Trailhead 1600 E Sonoran Desert Dr Phoenix, AZ 85085
Located in North Phoenix, just south of Carefree Highway and East of the I-17, the Sonoran Preserve boasts a handful of trailheads ranging from easy to extremely difficult. The Apache Wash Trailhead contains some of the easiest trails in the valley with elevations ranging from flat to gentle climbs. Whether on bicycle, foot, or horseback, enjoy dozens of miles of trails that take you through diverse cactus gardens and provide wide open views of the breathtaking Sonoran Preserve scenery.
---
South Mountain – Pima Canyon Trailhead 4771 E Pima Canyon Rd Phoenix, AZ 85044 (48th St and Guadalupe Rd)
Printable Map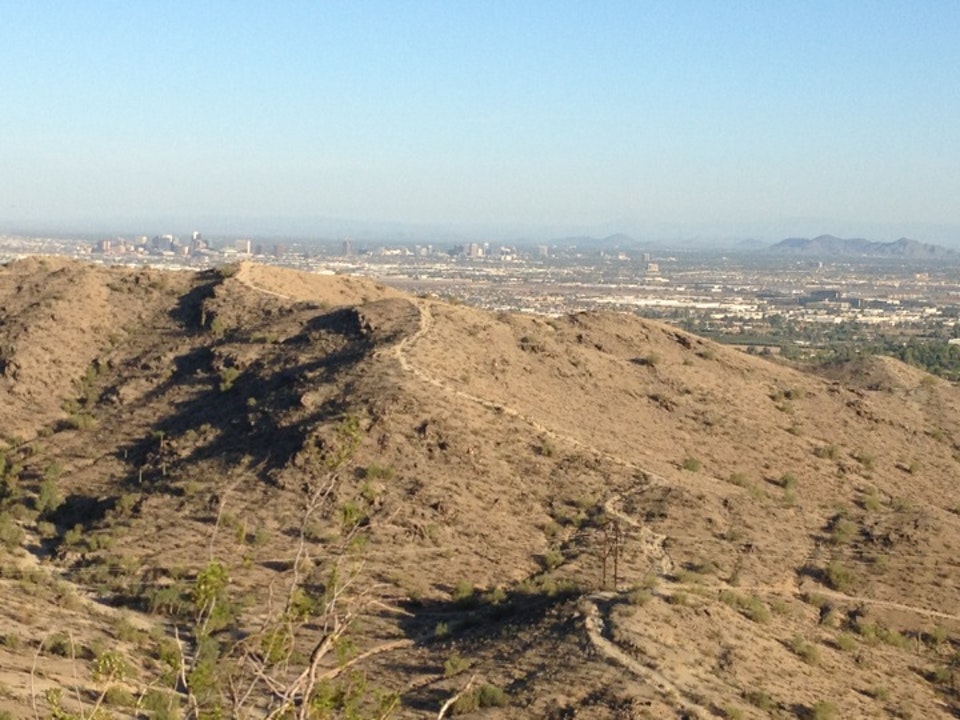 At more than 16,000 acres South Mountain Park/Preserve consists of three mountain ranges, the Ma Ha Tauk, Gila and Guadalupe; and is one of the largest municipally operated parks in the country. It boasts 51 miles of primary trails for horseback riding, hiking and mountain biking for all ability levels. From the park's main entrance, you can drive up the Summit Road 5.5 miles to Dobbins Lookout and spectacular valley wide views or you can continue to the Gila Lookout for a view of the Gila River Valley.
Highest Point: Mount Suppoa (not accessible to the public) reaches 2,690 feet. Dobbins Lookout, at 2,330 feet, is the highest point in the park accessible by trail or public roadway.
Source: https://www.phoenix.gov/parks/trails/locations/south-mountain
---
Superstition Wilderness – Lost Dutchman State Park - Siphon Draw Trail
6109N. Apache Trail Apache Junction, AZ 85119
Printable Map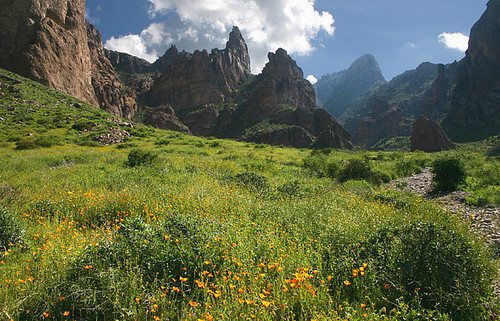 The Superstitions are the largest of the mountain ranges surrounding Phoenix, visible from many miles away along the straight roads through the suburbs east of Mesa. They rise steeply above the flat desert to a high point of 5,024 feet, and are characterized by sheer-sided, jagged, volcanic peaks and ridges separated by boulder-filled canyons, all covered by saguaro at low elevations, with other cacti and bushes higher up. Trees are found only at scattered locations, at springs or beside streamways. Early settlers named the hills on account of the many myths and stories told by the local Pima/Apache Indians about the mountains, and tales such as the fabled Lost Dutchman gold mine. Siphon Draw Trail leading to Flatiron Summit is an all day hike for the experienced hiker and not recommended in the summer months. The well trodden path to the basin is less strenuous and a welcome travel year round.
Source: http://www.americansouthwest.net/arizona/superstition-mountains/
---
Thunderbird Mountain 22800 59th Ave, Glendale, AZ 85310 (59th Ave and Pinnacle Peak)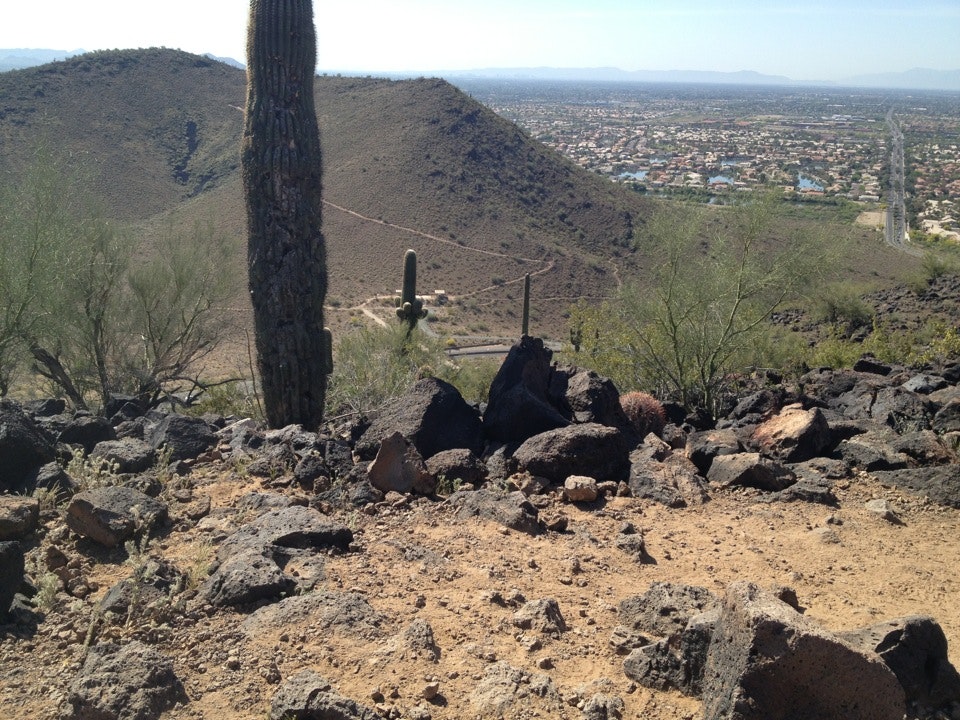 Thunderbird Conservation Park is located in North Glendale. It is home to a handful of short, easy to moderate hiking, cycling, and equestrian trails. Several trails include switchbacks and light rock climbing steps. At the summit, enjoy a south view of Glendale and Phoenix, overlooking the Arrowhead Ranch and Arrowhead Lakes communities. Wear a hat and bring plenty of water, as shade is difficult to come by at the Thunderbird Trails.
---
White Tank Mountain Regional Park – Waterfall Trail 20304 W White Tank Mountain Road Waddell, AZ 85355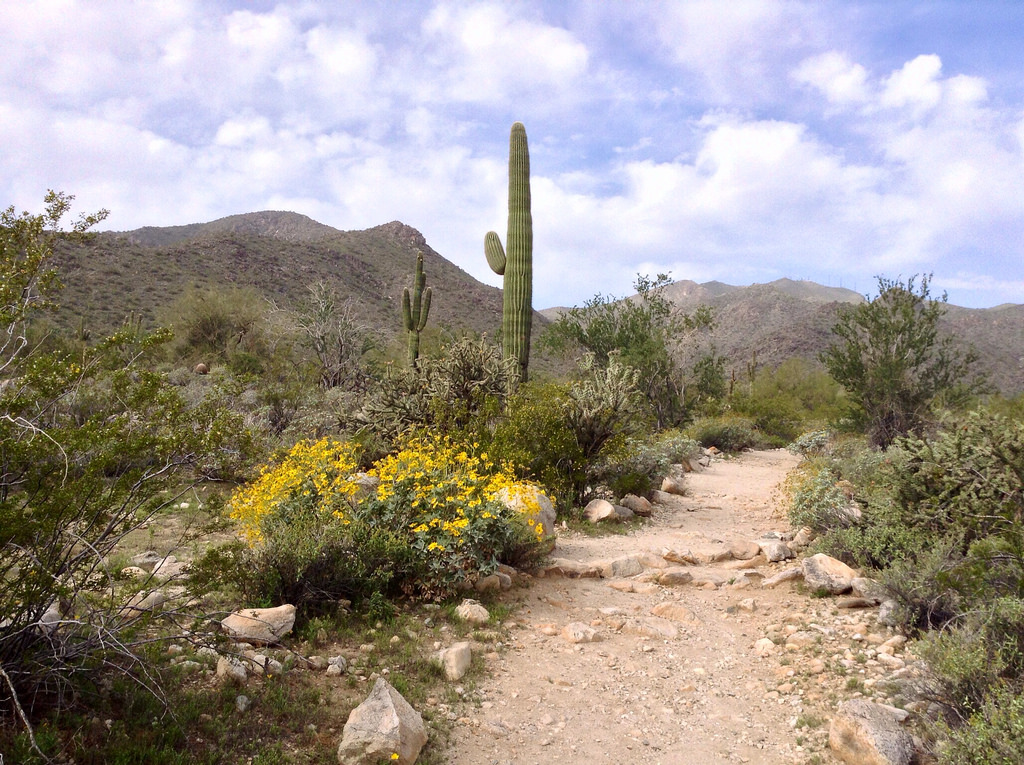 The White Tank Mountain Regional Park boats over 30 miles of trails ranging from easy to very strenuous. While most trails permit cyclists and equestrian riders, several trails, including Waterfall Trail, are pedestrian only. The trail gets in name from the water feature at the end of the trail. Rare desert rainfall fill the pools at the top of the rock and overtime begins to spill over, creating a waterfall. With as little rain as the desert gets, the waterfall rarely runs.
While visiting the White Tank Mountains, be sure to observe the rich history that embellishes the 1700 million year old rock formations. Petroglyph Plaza exhibits symbols left by the Archaic Ones from as far back as 5000 BC. Signs and symbols from the Hohokam (the longest lived Native Americans in the Valley) date back to 100 BC-1200 AD.