With any luck, Puxatony Phil was right, and spring will have sprung before we know it. That's great for the garden but not so much for your HVAC system if it isn't ready for warm weather. But the good news is that preventative maintenance isn't difficult or expensive. Simple steps like changing the filter and removing obstructions from the returns can keep your system cool when things heat up.
Signs it's time to replace the unit
Before you dive in and begin your HVAC repair routine, you should first determine if it's best to keep your existing unit or if it's time to replace it. If your unit is more than 10 years old, your energy bills keep increasing, or you can't keep your home at a comfortable temperature, it may be time to call a profor an evaluation. However, if you don't hear any loud noises and the unit seems to be functioning well, you can extend its useful years by doing a few easy tasks.
If you plan to sell your home soon, keep in mind that replacing an aged HVAC system is a selling point. Virtually all buyers will be relieved knowing that they won't soon be on the hook for this big expense.
How to upkeep your HVAC
HVAC upkeep starts with changing the filter once every three months, and more if you have pets or allergies. While most units don't indicate when the filter needs to be replaced, changing it out regularly is the best way to ensure that dust, dander, and debris are not kicked back into the air you breathe every time your system turns on.
If you want to get serious about keeping dust at bay, make sure to clean your air ducts once or twice per year. You don't necessarily have to pay someone to do this, and there are ways to do it yourself and save. Housewife How-To's shares the steps, and lists the tools you need for the job here.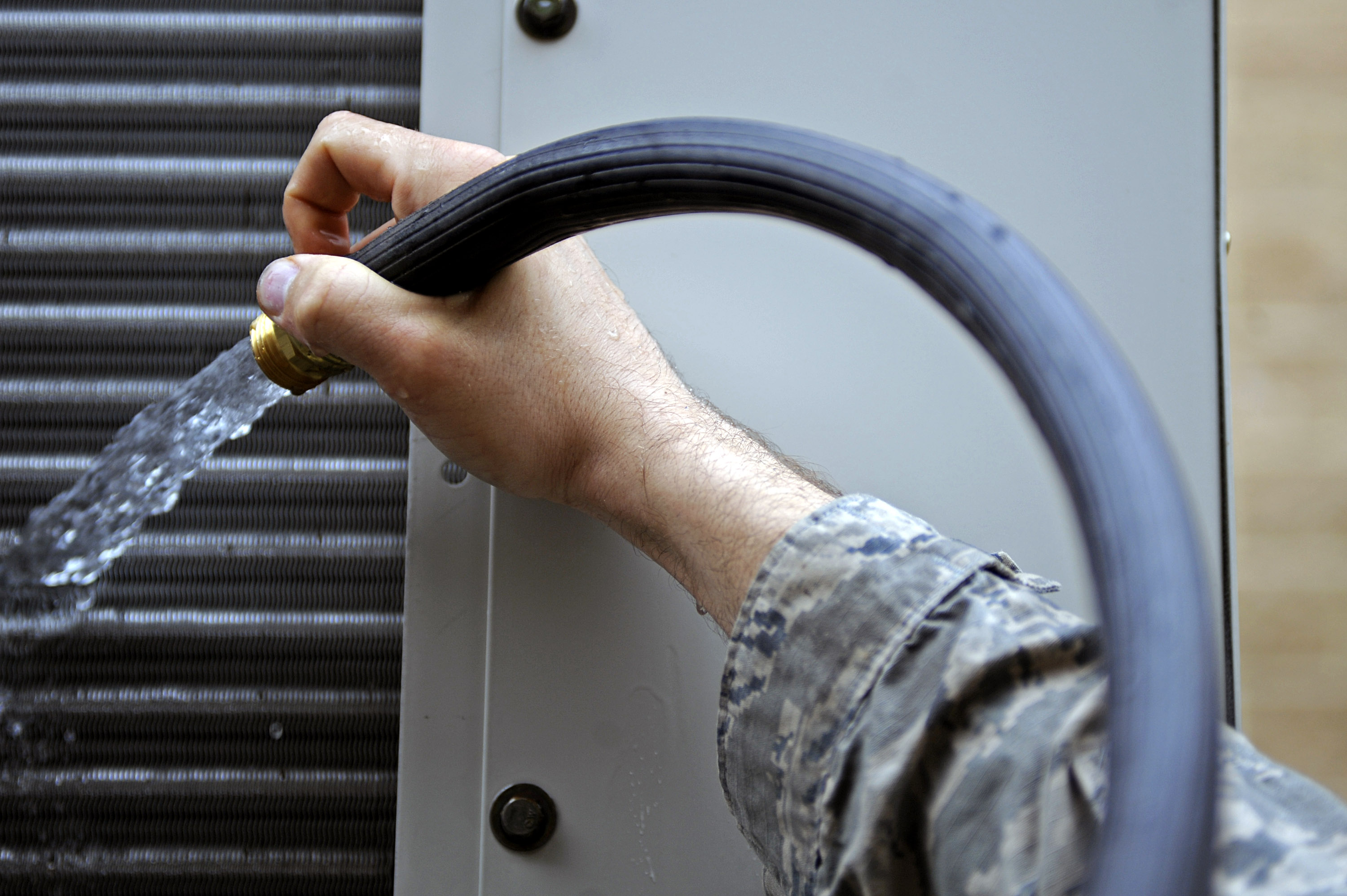 Next, take a stroll outside to the exterior portion of your unit. With the power turned off, grab the water hose and spray the exteriorof the system. You can also spray down the fan blades and any visible areas that are dirty. Don't be afraid to complete this step, and keep in mind that your unit is subject to rain and snow, so water from the garden hose isn't going to damage it. You will also need to clean any fallen leaves or twigs from on and around the unit.
If your air-conditioning system is near plants or shrubs, trim these to at least two feet away from the concrete foundation where the unit sits. Rake any leaves, twigs, or trash from around the unit and put down a layer of mulch to define the space between the brush and the unit. By keeping the area clear, you run less of a chance of something interfering with the operation of your heating and air system. Trane recommends planning your landscape design to include plants that hold onto their leaves throughout the winter.
Benefits of a functional unit
In addition to a comfortable temperature in your home, preventative maintenance keeps your energy bills low. Further, it lessens the chances of your system dying prematurely. You'll enjoy better air quality, and it will be beneficial for Mother Nature since an efficient unit uses less electricity. Perhaps most importantly, performing preventative maintenance on your heating and air-conditioning appliance can prevent costly repairs throughout the rest of your house, according to the International Air Quality Association.
Remember, if you are not comfortable performing maintenance or if you believe your system needs repairs, contact a licensed HVAC technician.
Keeping your home cool and comfortable is largely a matter of how you treat your heating and cooling system. So change the filters, keep it clean, and pay attention to its performance so that you can fix minor issues before they become major expenses.
Blog written by Ray Flynn of DIYGuys.net